The team at Marketplace Events strives to take each show beyond exhibit space, banners, and logos... We build experiences. ExhibiTALK is where the Marketplace Events team shares best practices and strategies to truly get the most out of your show experience. We bring buyers and sellers together in environments that ensure opportunity and success for our customers. Online, in print or on the show floor, we connect businesses with the audiences they need to reach; and we want to make sure every connection is worthwhile.
---
What to Include in the Show Binder
Many customers will remember MORE about the salespeople manning a booth than the booths themselves! Your success depends largely on the collective talent, product knowledge and energy level of your sales staff, AND of course how prepared they are. The foolproof way to insure everyone is prepared is to share your knowledge of the show with those who will be manning the booth.
Your internal show manual will be most helpful if it includes the following information: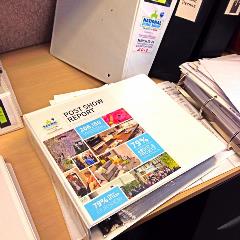 A staff schedule of who will be working the booth on a daily and hourly basis
A staff schedule of daily show activities
A staff schedule of pre-show and daily "wrap-up" meetings
Hotel information: where they will be staying
A map showing the convention hall and vicinity to your booth location
A diagram of your booth layout and booth number
A list of products being displayed
A product pricing structure
An explanation of the pre-show advertising and promotion
Corporate objectives and goals to be met at the show
Sales goals and rewards for success

It helps to have a copy of all information printed and available to staff in your booth. This way when a staff person needs to refer to it the the show binder is always at hand.