Before the Show: Develop An Effective Lead Card
Leads are one of the main reasons most exhibitors participate in home shows. Some might actually write orders on the show floor, but many take leads. The following are four basic concepts that will make the difference between being profitable at shows or just covering costs:
1. What is a lead card
2. When to use it
3. Follow-up
4. Tracking and reporting results
Leads represent the return on your investment. When the home show is over and everything is packed up, the only thing you have left for the money spent (aside from any orders you've taken on-site) is the stack of leads in your hand.
What is a lead card -
A lead card is a simple piece of paper that causes many other things to happen:
A lead card can initiate the qualifying process
A lead card can indicate the next steps - i.e., sending literature or making a sales call.
A lead card can provide research data about your attendee's interest and preferences.
A lead card can provide another name for your mailing list.

The physical attributes of a lead card are important. If it's too big, too small, too thin, or doesn't contain the right spaces to fill in FOR YOUR BUSINESS, then it will not do the job. The following are three simple steps to designing a lead card that your salespeople will use:

Make it small. A good lead card fits into your hand. It is the size of a 3 x 5 index card.
Put a backing on it. A card stock backing will give staff a surface to write on.
Make it multi-part. A multi-part form can be especially useful. One copy can go to the person sending out the literature, another to the person sorting leads for immediate follow-up, and the last can be a permanent record.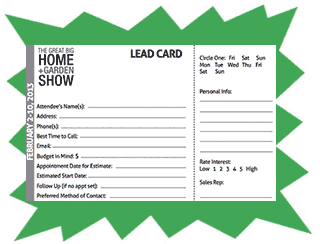 The key to great leads is having a place for all the right information. Ask show management for an example of an effective lead card. Many home shows will provide lead cards for you in the show office.

Customize your own lead card! Make it work for you! Just remember that attendees will answer only a certain number of questions. The design of the lead card will shift slightly depending upon how your company sells its products and services.

When to use it - Use the lead card often and early. When a salesperson uses the lead card at the beginning of the sales process as a place to write notes, he or she is working as a consultant. If a salesperson really cares about solving the attendee's problems or serving a need, he or she needs to fully document it on the lead card. Taking the time to fill out the lead card shows respect for the attendee.

Follow-up - A well-designed and professionally executed lead card is worthless if follow-up is not done properly. Assign someone to collect all of the leads daily and see to it that they get to the next point in the sales process. If your lead card has multiple parts, be sure that they are distributed appropriately. Remember to follow-up on your collected leads as quickly as possible after the show.

Tracking and reporting results - Tracking and reporting the results of your exhibit efforts are the final steps of participating in a home show and are often the most overlooked. Once the show is over and the leads have been sorted and prioritized you are anxious to get on with other things. It takes relatively little effort to analyze the success from lead cards. By marking your completed sales and tagging them as generated at the show, you'll be able to add any sales dollars collected after the show to your final return on investment.

There's an App for that - Rather than using the paper cards, you may wish to use tablets or iPads. The key to using technology at the show is to make sure there are enough iPads or tablets for all your salespeople during the busy days. You may wish to set it up kiosk-style. If your team is waiting on one machine to capture leads, the time wasted means you will be missing out. There are a multiple apps available to do the job, a few of which we've listed below. Many others can also be found with a bit of internet searching.

iCaptureLEADS
MailChimp Subscribe
QuickTapSurvey